Using the Template
For further assistance email bloggerdesigns [at] gmail [dot] com
1. Click on the Get Template link to download the script and images.
2. If you do not already have a
Photobucket
account create a free one and upload the images there. Make sure to select the 17" screen size before uploading.
3. After uploading Copy the URL (
without the file name.
) which appears in the textbox below the uploaded image.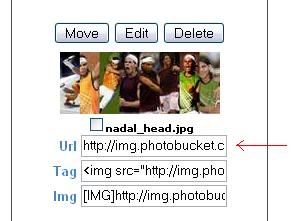 4. Open the template script file in Notepad.
5. Find and Replace
http://replace.photobucket.com/albums/replace/
with the URL you copied from the textbox which should look something like this
http://i20.photobucket.com/albums/j432/usename/
6. Now Copy the entire text in the script file and Paste into your blogger template.
7. Save and then Republish.
8. If you receive the following error message
'Your template could not be parsed as it is not well-formed. Please make sure all XML elements are closed properly.
XML error message: The markup in the document preceding the root element must be well-formed.'
scroll down the page and click on Revert to Classic Template.